Marco Valerio Zangani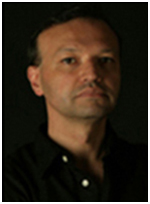 Born in Rome in 1964, he leaves the town with his family in his early years to come back, due to his job, in 1988 from Naples, where he has started to play guitar with rock bands at an amateur level. Very fond of hard rock and heavy metal though not a full-time musician, in Rome he sets up Sacer Tiber in 1992 to carry out original hard rock songs written by himself. He remains with that band till the end of the Nineties, recording some demo-tapes and performing often live with some success but without reaching a recording deal. When Sacer Tiber are wound up, he devotes himself to evolve his instrumental technique and songwriting toward contemporary neoclassical power metal, without nevertheless giving up traditional hard rock, and in 2003 he forms Steel Seal in order to merge the two genres as carrying out new original songs. Composer of the band's music and lyrics, he's keen on classical music, particularly the baroque and romantic one, and on poetry, especially romantic, often a source of inspiration for the verse of his songs.
Luca Iovieno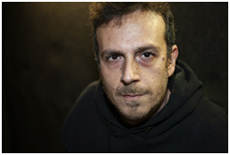 Born in Rome, in 1977, Luca early began to study drums with Cristiano Micalizzi, when he returned to Italy from U.S.A. With him, Luca studied for several years and participated in the Berklee College of Music clinics, at Umbria jazz. In '99 he published his first album, with the prog-metal band River Of Change (Where reality cannot enter), which had a very good response. Later, he became a member of the thrash-metal band Enemynside, with whom he made lots of live sets. In 2005 he knew the guitar player Marco Valerio Zangani and became the drummer of Steel Seal, with whom he recorded in 2006 the first album By the Power of Thunder. In 2008 he plays drums and arrangements in "Heilagmanoth", album of the prog-gothic-symphonic band Dunwich. In parallel with studio activity he plays alive with different musical situations, as orchestral bands and musicals. In 2010 he records drums on Redemption Denied, the second Steel Seal's album. In 2013 he records the second River Of Change's album, work that is still in progress. In 2017 he records the third Steel Seal's album, The Lion's Den. In 2019 he became a member of the doom-alternative band Witches of Doom, with whom he recorded a song for the tribute album to Death SS and later the third album of the band Funeral radio, out in 2020. In the same year he records the fourth Steel Seal's album Fireraiser. Currently he plays with Steel Seal, River of Change e Demon's Whip.
Roberto Fasciani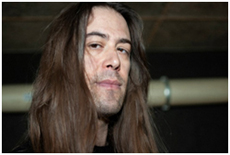 Roberto Fasciani (1979) started playing bass at the age of 15 and then attended the UM Università della Musica and the Percentomusica Music School (2000-2003), getting a high graduated degree. He recorded and toured with: Michael Angelo Batio, Dean Bowman, Mark Boals, Leon Hendrix, Graham Oliver, Stan Skibby, Fabio Frizzi, Pierpaolo Capovilla, Octopus Orchestra, Novembre, Marco Conidi, AIIR, Blue Experience, Los Bastardos, Stefania Calandra, Dogmate, Dunwich, Hydra, Orchestra Nazionale, and others. Finalist in the international contest European Bass Day 2005. He writes music articles for the musicians' websites Music Off and Guitar&Bass, in which he made album reviews and interviewed many musicians. He currently plays with Fabio Frizzi "Frizzi 2 Fulci", Ilenia Volpe, "Roberto Fasciani & Riccardo Rocchi Duo", Los Bastardos, Steel Seal and EHFAR. Hundreds of concerts in Italy, Europe, North America and Asia. He played in the following festivals: Beyond Festival, Mondo Con, Bloody Week-end, Rock in Roma, Gods of Metal, Etnika Rock, Abertoir International Horror Festival, Maskoon Fantastic Film Festival, Generazione XL, Nessun Dorma, and others. He wrote his first bass method "Studi Ritmici per Basso Elettrico", published by Dino Audino Editore in 2018. He teaches bass and music labs in music schools in Rome.
Adriano Rossi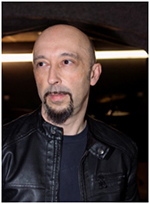 Born in 1970, Adriano begins to study classical piano at the age of 12 with the maternal grandparents, both professional musicians. Become very keen of rock music when he was about 20 y.o., he combines his two passions starting to play keyboards with various Roman bands, giving several concerts in the many (as they were then) local clubs where rock was played. Among the numberless performances of Italian rock and Queen's covers, he forms with his friend and guitarist Ubaldo Ricci a Y.J. Malmsteen's tribute band, Black Stars, where he starts a lasting joint musical work with Bruno Baudo (now vocalist of Daylight Silence), Roberto Fasciani (bass) and Luca Iovieno (drums). When he knows the guitarist and songwriter Marco Valerio Zangani who's aiming to set up Steel Seal, he agrees with pleasure. Rossi is also a professional sound engineer and he records with Zangani Demo 2003, a 5-pieces demo-CD of unpublished tracks where he's both the keyboardist and the sound technician; he brings along his friends Baudo, as the singer, and Fasciani, on the bass, using for greater convenience computer-generated drums programmed with Zangani. The Italian label Underground Symphony welcomes the tracks and produces in 2006 the first Steel Seal album, By the Power of Thunder, where Rossi, however, doesn't appear due to previous engagements and lack of time. Solved those problems, Rossi will be the main keyboardist on the following Steel Seal's albums. He's also a composer of minimalist classical music by piano. About his musical style, Rossi is a neoclassical metal keyboardist to all intents and purposes; organs, strings, choruses and synths are his favourite sonorities for a very powerful sound, technical and fast solos, often with inserts of classical progressions.